What Is Taylor Swift's Position On Goat Yoga?
16 November 2017
When the US left the Paris Climate Accord, Angela Merkel said Germany would stay in to "save the Earth". That's a bit rich given America has reduced carbon dioxide emissions more than any other country this century (and more than triple Germany):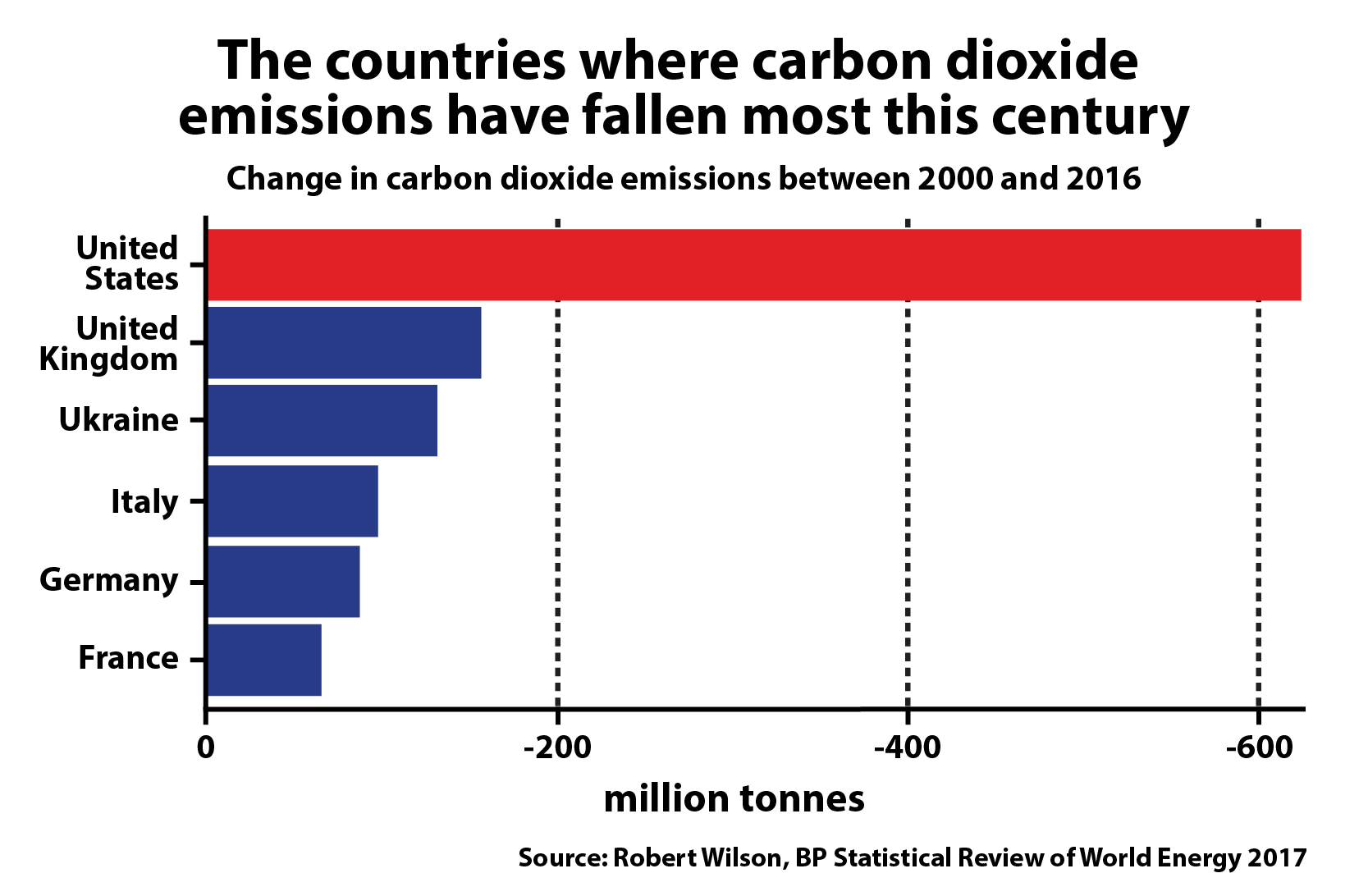 Christmas is coming up, but don't worry – the IPA has you covered. We asked our team to send us the best book they have read that was published in the last 12 months. The list is here and includes Hillbilly Elegy, What Happened, and The Road to Somewhere and new titles from Douglas Murray, Bill Bryson, Condoleezza Rice and Newt Gingrich among others.
Good news! Yesterday the South Australian government announced it is abandoning its ludicrous bank tax. Now South Australia only has to worry about having among the highest electricity prices in the world and paying for a hospital that is the world's 7th most expensive building.
Make sure you're sitting down when you read this – companies will virtue-signal…as long as it doesn't actually cost them anything. A host of American companies pulled advertising from Sean Hannity's Fox News show after his interview with US Senate candidate Roy Moore. But once viewers started filming themselves destroying coffee machines as a boycott of the boycotters, they  backflipped. I guess "taking a stand" wasn't that important after all.
Taylor Swift is finding out that the new leftism, like the old, won't let you sit out the revolution. Marie Claire hasn't attacked her for her politics, but for "remaining apolitical" during the 2016 US presidential election. Reason explains.
After you've finished reading Hillary Clinton's book (Simon Breheny's Christmas book recommendation) about how she didn't deserve to lose the election to Donald Trump, you can read Gordon Brown's autobiography released on Friday. This review by former Labour Party minister Peter Mandelson in the Evening Standard last Friday explains why Brown did deserve to lose to David Cameron. Brown was as bad as Corbyn – but more boring.
And the latest activities the District of Columbia Department of Health is cracking down on? Beer tasting and goat yoga (yep, it's a thing) because apparently it is illegal to touch an animal at a public event. Drain it.
Rowan Dean is offering IPA members and supporters a special invitation to the joint launch of two exciting new books on 28 November in Sydney – Rowan's hilarious debut novel Corkscrewed and The Best of Spectator Australia, which collects the best articles from The Spectator Australia from a range of popular conservative writers between 2014 and 2017. Ticket options for this unmissable event are  here, here and here.
Article of the week:
Socialism doesn't mean less racism, contrary to the belief of many racial justice advocates. In fact, it has deeply racist origins, writes Marian Tupy in this 2,000 word piece in CapX on Friday.
IPA Staff Pick:
Support the IPA
If you liked what you read, consider supporting the IPA. We are entirely funded by individual supporters like you. You can become an IPA member and/or make a tax-deductible donation.