This quote from a Department of Industry report on declining annual business entry rates tells you all you need to know about government reports: "I find it quite puzzling… this happened despite the government putting into motion a sizable stimulus package" (p. 32). Yes – that's the point:
As Matthew Lesh explained on FreedomWatch today, the DOI report adds to the evidence that red tape, an archaic industrial relations system, and high taxes are crippling Australian entrepreneurship. Matthew also wrote about this in the IPA's report Reigniting Australia's Entrepreneurial Flame released earlier this month.
Industry super directors' fees are funding the trade union movement. The IPA's new report, Rivers of Gold, authored by Simon Breheny and me, was covered on the front page of The Australian yesterday: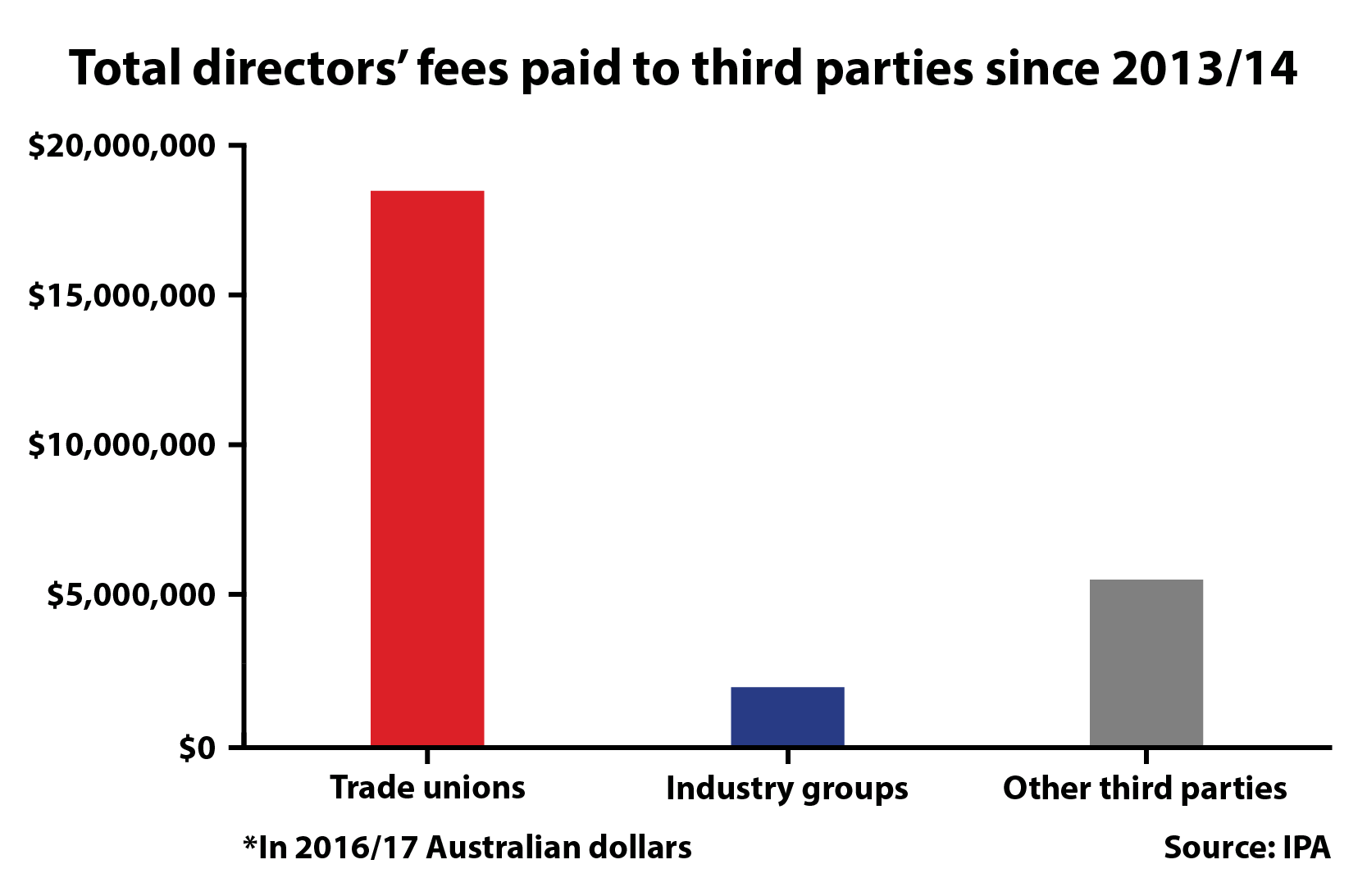 A Royal Commission into banks "will not solve the key problems in that sector; too much red tape and a lack of competition" said Daniel Wild today. Chris Berg predicted before the 2016 election that the government would do this and that it wouldn't address the problem of "the discretionary, arms-length, ambiguous regulatory state".
We now have a former PM calling on the next Labor government to establish a Royal Commission into news outlets that he didn't like. Kevin Rudd told The Saturday Paper this week that News Limited should be the subject of an inquiry for "persistently working for the election of Coalition governments". Pretty rich considering nearly every News Ltd paper endorsed Rudd at the 2007 election.
French president Emmanuel Macron on Saturday called for the criminalisation of wolf-whistling  and "gender based insults" – along with a €420m-plus budget dedicated to female and male equality. Small wonder then that Laurent Wauquiez, the conservative "bad boy" who is to the right of Thatcher on public spending, is shaping up as the candidate to bring down Macron.
The Guardian broke an important story on Sunday (no that's not a typo) when it reported that the federal government is considering selling access to its national facial recognition database to business. If that seems troubling, you should read this fascinating article from the Wall Street Journal on the six laws of technology that everyone should know.
Cricket Australia thinks they are making junior cricket more like backyard cricket by banning batsman dismissals – they obviously have never played backyard cricket in Australia before. John Roskam wrote about the cotton wool culture infecting cricket in 2014, when he was told he wasn't allowed to reveal the scores to players of an under 8-game (the kids kept score themselves anyway).
Article of the week:
In this 2,000 word article for the Autumn edition of City Journal, Joel Kotkin and Wendell Cox explain how the increasingly progressive politics of major US cities is failing the people it is pretending to help by leading to higher taxes and poverty rates, declining incomes for millennials and the complete collapse of the middle class.
IPA Staff Pick:
Each week an IPA staff member shares what they have enjoyed recently. Today: Dr Bella d'Abrera 
In this powerful speech to the Manhattan Institute two weeks ago, Jonathan Haidt compares his liberal arts education at Yale in the 1980s, to the education students receive today. Today students are taught that the only lens to view the world through is the lens of power – "It's a paranoid worldview that separates people from each other and sends them down the road to alienation, anxiety and intellectual impotence".
Here's what else the IPA said this week:
Support the IPA
If you liked what you read, consider supporting the IPA. We are entirely funded by individual supporters like you. You can become an IPA member and/or make a tax-deductible donation.