THE Australian Bureau of Meteorology keeps remodelling the temperature record for Australia – and not just by a little bit. Temperatures are changed through a process known as homogenisation, and then changed again, sometimes by as much as 6.4 degrees Celsius for the one day.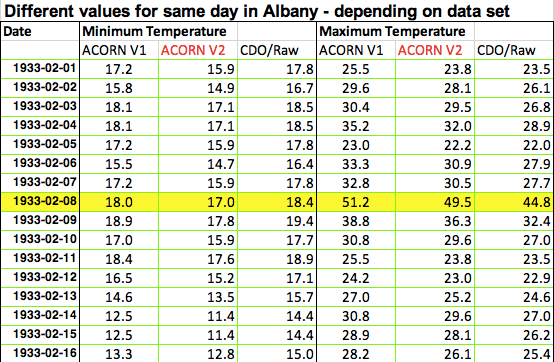 The temperatures as actually measured at Albany, and other places, have been changed by the Bureau in the development of the official temperature record for Australia.
For example, on 8th February 1933 the maximum temperature as measured at Albany in Western Australia was 44.8 degrees Celsius. Then, six years ago it was changed to 51.2 degrees Celsius! Recently it was changed again, this time to 49.5.
Changing the temperature record like this is not unusual for institutions such as the Australian Bureau of Meteorology, though the extent of the change for Albany on this day in 1933, and also the direction of the change, is unusual.
Usually past temperatures are cooled relative to the present as part of remodelling, which is called 'homogenisation'. Cooling the past relative to the present has the effect of exaggerating global warming.
Given the magnitude and direction of this change to the Albany temperatures, which was first made six years ago, several of us asked the Bureau: 'Why'?
Why was the temperature at Albany on this day (February 8, 1933) adjusted-up by so much (6.4 degrees) in the official version 1 of the ACORN-SAT dataset that was published six years ago?
I never got an answer.
I have simply been told, mostly via the mainstream media, that homogenisation is world's best practice, and that ACORN-SAT is scientific.
Of course, it is not scientific to make such changes to temperature measurements, though this type of change – this remodelling – is standard practice not only for our Bureau but also for the custodians of the global temperature datasets relied upon by the IPCC (United Nation's Intergovernmental Panel on Climate Change).
While ACORN-SAT Version 1 contains remodelled temperature values that can vary from the actual recorded measurement by more than 6 degrees, the values in this same database are often referred to as 'observations' as though they represent real measurements. For example, when leading climate scientist Sophie Lewis and David Karoly published a paper in the American Meteorological Society journal about 'extreme events' they erroneous refer to ACORN-SAT Version 1 values as 'observations'.
Indeed, ACORN-SAT Version 1 has underpinned almost all the climate change work at our universities and at CSIRO over the last 6 years.
Most climate scientists seem to want to believe that the temperature values that they are working with represent real measurements. But they don't!
Just recently this ACORN-SAT database – used by Lewis, Karoly and thousands of other scientists here in Australia and also overseas – was updated. Dr Blair Trewin at the Bureau has re-adjusted temperature values yet again, creating ACORN-SAT Version 2.
In the case of Albany, the maximum temperature on 8th February 1933 is now shown as 49.5 degrees Celsius. In reality it the maximum temperature in Albany on that day back in 1933 was 44.8 degrees Celsius.
The integrity of the historical temperature record is of extraordinary importance. This record also underpins belief in catastrophic human-caused global warming.
Perhaps today's front-page story in The Australian newspaper by Graham Lloyd will generate some interest in how and why our climate history can be so change, apparently at the whim of the Bureau and other such institutions around the world.
I wait, and I hope.
See also Warming Up in Rutherglen
Support the IPA
If you liked what you read, consider supporting the IPA. We are entirely funded by individual supporters like you. You can become an IPA member and/or make a tax-deductible donation.